Hi Clemens,
you are Head of Research and Development at Haag-Streit Simulation, the former company VRmagic. What is your mission and what is Haag-Streit Simulation doing?
Hi Sebastian, Haag-Streit Simulation is developing educational solutions for diagnostic and surgical training in ophthalmology. Our mission is to raise the standard in medical education by replacing the patient with virtual patients. Our high-end virtual reality-based simulators recreate an examination or surgery situation down to detail. In virtual reality, trainees can learn from mistakes without putting a real patient at risk. Besides providing a realistic, yet risk-free training environment, VR simulators offer further benefits. The embedded training curriculum gives every student or resident the chance to learn from the same range of pathologies. Practical training units on the simulator are combined with web courses which convey relevant medical knowledge. This standardized curriculum goes along with an objective performance assessment provided by the simulators. Since 2016, our devices can be networked, which makes it even possible to give trainees feedback on their performance in comparison to a worldwide peer group.
Regarding your product portfolio you are already offering several simulation devices. Which examinations and procedures are you covering and where are your limitations so far?
We offer training solutions for a variety of diagnostic modalities and surgical procedures. The portfolio includes simulators for direct and indirect ophthalmoscopy and slit lamp examinations of the anterior segment, as well as gonioscopy, and fundoscopy. The Eyesi Surgical simulator is our flagship product and is available with both cataract and retina surgery interface. Training modules range from basic skills training and single steps of surgical procedures, such as capsulorhexis or membrane peelings, through to complicated situations like anterior vitrectomy or the implantation of a capsular tension ring. Haag-Streit Simulation also develops custom simulators for industry partners. For the pharmaceutical company Genentech, for example, we have developed a training simulator for ranibizumab implants. This customer-specific development has been our first approach to simulate ab-externo procedures. The corresponding advancement of our own simulators will be amongst our next steps.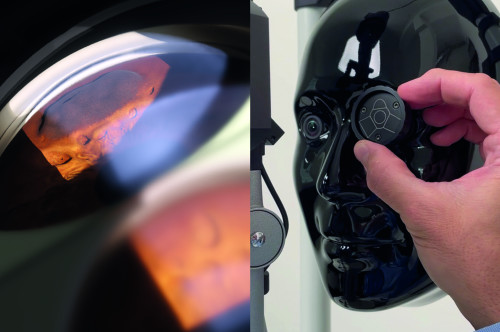 Figure 1: Haag-Streit Simulation equipment now allows not only surgical procedures to be trained, but also ophthalmic examination techniques such as slit lamp examination, direct ophthalmoscopy or gonioscopy.
In some countries, it is very difficult to get just ophthalmic surgical training. What is the feedback so far from existing users? What is your aspiration? Is it possible to learn complete surgical procedures entirely on your equipment?
Various studies show that skills that have been acquired in simulation can be transferred to practice. Nevertheless, there is still a gap between simulation and reality – some steps cannot be simulated yet, others have a "simulation bias", which means the acquired skills need to be adjusted when the transition to a real patient is made. The way I see it, it is possible to learn complex skills of a diagnostic or surgical procedure in simulation, but to put it all together and become an outstanding diagnostician or surgeon still requires a human teacher. However, simulator training does ensure a reliable skill level and it does accelerate the learning curve in the OR. There are more than 900 training systems from Haag-Streit Simulation in use in more than 450 training programs for eye specialists worldwide. In the USA, simulators were included early on in the guidelines as a training method for ophthalmological education. In Europe, we observe the same development. In the Copenhagen region of Denmark, for example, it is mandatory that aspiring doctors complete the curriculum on the simulator before they are allowed to operate on a real patient. In the United Kingdom as well, every ophthalmological surgeon who is currently being trained is trained on a simulator. The international non-profit organization Orbis, which aims to combat blindness worldwide, has equipped its flying hospital with Eyesi simulators to train ophthalmologists in developing countries.
I have trained on your equipment myself and was fascinated by how good the haptic feedback is. What makes it possible for you, although you are not ophthalmic surgeons, to come so close to reality here?
The fidelity of our simulators – the realism of the simulation and the haptic feedback – is possible only with the help of our medical advisors and the ophthalmological community in general. New product developments go through several review cycles before they are released. Also, we constantly get feedback from our customers and instructors from all over the world. A distinctiveness of our products regarding the look-and-feel is the use of original hardware, such as original surgical instruments that are manipulated in the mechanical eyes of the surgical simulator. For the Eyesi Slit Lamp simulator, the VR technology has been integrated into the original setup of a Haag-Streit slit lamp model BQ 900.
In sports, there are some studies that show how important visualization is in training and how well visualization can improve subsequent performance. Are there similar studies with your devices?
As far as I know, visualization in this sense is about creating mental images of specific situations. By going through these imagined situations, performance can be improved, and anxiety of certain situations can be overcome. Possibly one could argue that our simulators are the technological counterpart of these mental images, only that they offer real interactions and real feedback in addition. The benefits are comparable – there is no risk involved and a specific situation can be repeated ad lib. A range of studies shows how skills that were acquired on our simulators lead to better performance in practice. 
One of the limitations of your technology so far is that you always have to have a device available.Have you ever thought about training with virtual reality or virtual reality mounted displays? 
Virtual reality in our understanding goes beyond wearing a VR-based head mounted display. The setup of our VR simulators addresses all senses involved – not only the visual, but also auditory and haptic perception, and kinesthetic coordination. Surgeons are alike organ players as they work with hands and feet while they are completely absorbed by the activity. I am convinced that a simple setup with a 3D visualization device and an off-the-shelf input device, such as a computer mouse, is not suitable for training of such complex tasks as eye surgery. A direct brain interface might be able to address all senses, but this is still a science fiction scenario.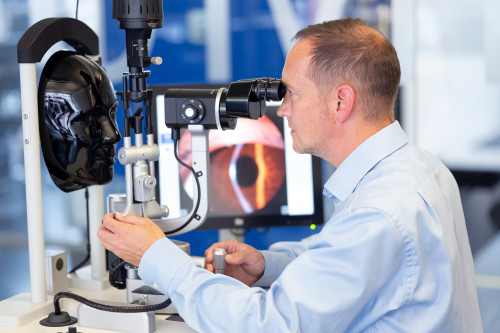 Figure 2: Even the examination by means of a slit lamp can be trained true to reality.
What are you working on right now? What's next?
We are constantly improving our existing simulators by enhancing the simulation, adding new surgical techniques, and extending the curricula. One example is our current work on a full-procedure simulation for cataract surgery. While undertaking all steps of a surgical procedure in a single run, trainees will have to cope with the little mistakes that could add up to complicated situations. This will be a powerful extension to the current surgical curriculum, where procedures are divided in single steps to foster systematic and repetitive training. Our vision is to support ophthalmic education in every area. In future, we want to integrate different modalities into the training situation – like a "virtual hospital" where you can examine and treat the same patient with diagnostic and surgical simulators. We have already come a long way, but there are still a lot of gaps to fill.
Thanks a lot for answering our questions!
Further Links: