''We are not claiming that Google Trends Data may help in predicting the future. Rather we are claiming that Google Trends may help in predicting the present''. This was published by Varian H., chief economist of Google Inc., in his article ''Predicting the present with google'' (Economic Record, Vol. 88, 2012) announcing the integration of Google insights for search service into Google Trends in September 2012.1
Since then, Google Trends (www.googletrends.com)  is used as the main search engine to study trends using internet queries with Google.
Google Trend is an online tool of the company Alphabet Inc., Mountain View, California, USA that is primarily used to investigate search queries, topics, or phrases over a specific time (Figure 1).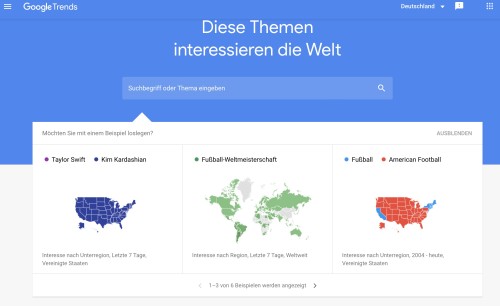 Figure 1: German version of the Google Trends website, showing worldwide search engine query trends.
These queries, in turn, are presented in charts that reflect the public interest of users and are intended to allow forecasts. The popularity of individual search terms can be analyzed over time and compared in relation to other terms regionally or worldwide.   
For example, Trend search of up to a maximum of five terms can be compared with each other simultaneously. In addition, the time frame as well as the region can be changed manually. With a time frame of three months or shorter, for example, the data is displayed on a daily basis.  
Google Trends draws on, in turn, this enormous mass of search queries to display social trends in visually appealing diagrams.
The main advantage of analyzing Google Trends data is that it uses revealed rather than stated user preferences.
Therefore, information can be retrieved from the data pool that would otherwise be difficult or impossible to collect. In addition, because data is available in real time, it solves problems that arise with traditional, time-consuming collection methods. 2
The Medical industry is currently undergoing an enormous change and must constantly adapt to the dynamic changes of social needs as well as to a multitude of new technologies and information and communication media. In the last decade, novel technological methods, especially the use of structural input data on internet have become an integral part of health informatics. The online sources available as a result provide a wealth of data.
A data pool of enormous size is generated every day in real time in the form of search engine queries social media input on smartphones or tablets from millions of people around the world. As a result, this interaction is closely associated with the term "Big Data''.
Therefore, the analysis of ''Big Data'' is increasingly finding its way in terms of providing interesting insights in many issues in real time and even in terms of predicting the occurrence of diseases.
Both are significantly of high value. Currently, for example, there are increasing studies on the COVID-SARS2 pandemic.  Data scientist Stephens Davidowitz analyzed e.g. the typical disease symptoms entered as search terms in Google Trends, which can provide information about the spread of a particular disease (Fig. 2). The study concluded, that a correlation between actual cases and entered search terms can be strongly suspected. 3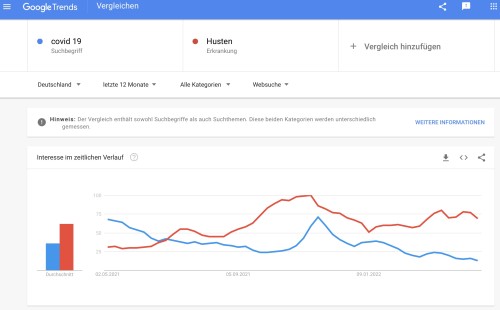 Figure 2: The figure shows the course of time in the German-speaking region for the search queries "Covid 19) and "cough) within the last 12 months.
Moreover, particularly in the field of Ophthalmology, many studies analyzed a possible interpretation of ''Big Data'' generated from Google trends.  For example, it was possible to identify certain epidemics of conjunctivitis worldwide with the help of search engine queries. 4
On the other hand, however, it was shown that the search trend for laser-assisted in situ keratomileusis (LASIK) is decreasing significantly, while the number of procedures performed is increasing strongly in Europe (Fig. 3). 5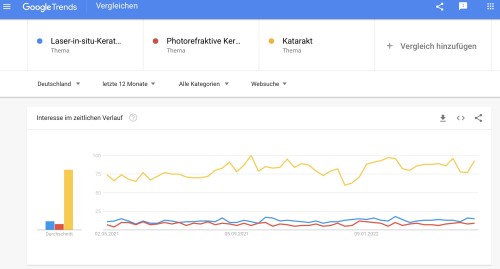 Figure 3: Presentation of the temporal interest in the surgical procedures laser-assisted in situ keratomileusis (LASIK) and photorefractive keratectomy (PRK), as well as in the disease cataract within the last 12 months.
To date in ophthalmology, those retrieved Data from Google Trends, supposedly implying the trend search of the internet users, have never been linked or correlated to real healthcare system data. This might be because of the general lack of the availability of official heath data.  Making it difficult to analyze and predict diseases and outbreaks. 2 In a recent study our group could present for the first time at the ESCRS 2021, the data generated from google trends concerning trend search of cataract, corneal, and refractive surgery in Germany was analyzed and statistically correlated with data acquired from German health care officials in terms of time-series analysis as well as retrospective analysis of surgical procedures. 
In the future, these data could help to adapt the structural set-up of ophthalmology in the respective countries to the respective medical needs of the population in the long term, but also in the short term with regard to certain diseases.
References
1. CHOI H, VARIAN H. Predicting the Present with Google Trends. Econ Rec. 2012;88(SUPPL.1):2-9. doi:10.1111/j.1475-4932.2012.00809.x
2. Mavragani A, Ochoa G, Tsagarakis KP. Assessing the methods, tools, and statistical approaches in Google trends research: Systematic review. J Med Internet Res. 2018;20(11):e270. doi:10.2196/jmir.9366
3. Stephens-Davidowitz S, Varian H. A Hands-on Guide to Google Data. Google, Inc. 2015:1-25.
4. Deiner MS, McLeod SD, Wong J, Chodosh J, Lietman TM, Porco TC. Google Searches and Detection of Conjunctivitis Epidemics Worldwide. Ophthalmology. 2019;126(9):1219-1229. doi:10.1016/j.ophtha.2019.04.008
5. Stein JD, Childers DM, Nan B, Mian SI. Gauging Interest of the General Public in Laser-Assisted In Situ Keratomileusis Eye Surgery. Cornea. 2013;32(7):1015-1018. doi:10.1097/ICO.0b013e318283c85a